If you've been following our blog, you recently learned that we're making some VERY exciting changes at both locations.
To recap:
Sage & Twine NC will now be having FOUR FANTASTIC BARN SALES! Becky's first show is coming up soon – April 22, 23 & 24. WHOA! That's only a few weeks away! If y'all are from down her way, you can't miss Becky's BARN SALE in Lillington, NC! Also stay tuned for new products AND painting workshop dates, and times!
At Sage & Twine NH, we're not only relocating to the village of Contoocook, NH but we're also adding some great new products and services. We already carry Miss Mustard Seed's Milk Paint and LOVE witnessing how many of our workshop participants and DIYers love it too.   It takes a little finesse when mixing (it comes in powder form and is mixed with equal parts water), but the end results are totally worth it.   WE especially love this milk paint because it gives pieces a naturally-aged chippy effect that's to-die-for. Ohhh mama!

That being said, there are specific paints you need for specific jobs or to give you a certain effect.  We've been searching for years for a high-quality chalk paint that's as beautiful as it is functional. Well, the time has come! DRUM ROLL, please ………
We've finally found a chalk paint we feel honored and excited to use and stand behind!  So here's the latest scoop!  We're gettin' FAT! Wait a minute, what?  Yes!  Both locations (NH & NC) will be carrying FAT Paint!
"What is FAT paint?" you might be wondering. The FAT Paint Company makes chalk-style paint that goes on smooth, distresses easily, and finishes with flair. It has exceptional coverage and sands with much less of that powdery chalk dust flying all around, too.  Developed by an artisanal brother-sister duo, FAT Paint transforms furniture, frames, bowls, jars – anything at all really, into enviable works of upcycled art. We like this paint so much, we've decided to make it the main chalk paint brand to work with and carry in our shop and for good reason. Here's one of them ……..
Just look at all those fabulous, luxurious shades & colors!  They just recently added 4 more (see them all here) plus 6 more designer inspired colors (by Amanda Forrest).  Here's the latest – "Verdigris!"  WE LOVE THIS!!!!!  Yup, it's a sage color. Go figure!

We also like other FAT Paint products, especially their wax. It's as smooth as face cream and actually smells like it too! Once dry, it buffs easily without having to throw out your back in the process. That's definitely a win-win!  Unlike most chalk paints on the market, FAT paint comes in varying sizes/amounts. No longer do you have to buy a quart when all you need is half the amount. FAT paint comes in sample, pint, and quart sizes. No more waste, people!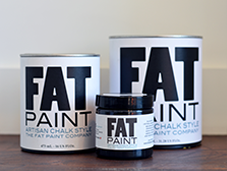 The FAT paint company has become extremely popular and celebrated in Canada and it's fame is quickly spreading across the US. We love how this company started from scratch with a kitchen aid mixer and a dream. We especially love their branding and what they stand for.  They recently put this on their Facebook page on International Women's Day.  Of course, a shout-out was given to all the FATtastic men out there, too!
We're beyond excited to offer our customers a chalk paint line with excellent performance and the beauty to transform. We can't wait to bring this into our shops and painting classes!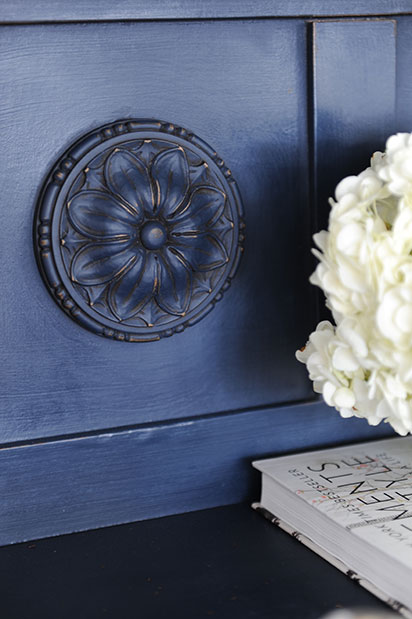 See you there!  In the meantime, keep following us because there's much more to come!
We're curious, what's YOUR favorite color on FAT Paint's palette?
Leave a comment below and let us know!
(~Amy)